Liver Operation Restores Kitten's Sight
A tiny blind kitten has regained her sight after undergoing intricate surgery here at Paragon Referrals.
But our expert vets did not operate on little Purdy's eyes, as our small animal specialist Mickey Tivers actually solved the problem by performing surgery on her liver.
Mickey, our head of surgery, said: "Blood tests and a CT scan revealed that Purdy was actually suffering from a congenital portosystemic shunt.
"This is a defect which causes the blood to bypass the liver making it unable to absorb essential nutrients or remove dangerous toxins.
"This causes a number of problems. Affected animals are often small, and underdeveloped and suffering from problems in the nervous system because of the toxins.
"In severely affected cases you can have tremors, seizures and, as in Purdy's case, blindness."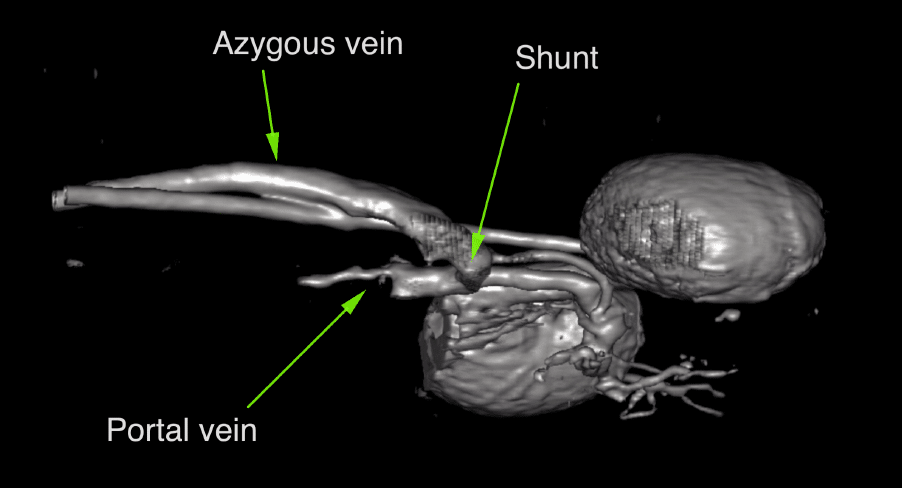 Once diagnosed, Purdy was put on a special diet and given lactulose and antibiotics in a bid to reduce the toxins absorbed from the gut and stabilise her condition.
However, delivering a permanent solution meant surgery was required to stop the blood bypassing the liver.
Mickey added: "First we injected dye into a blood vessel in Purdy's intestine and tracked its flow using fluoroscopy in a bid to properly identify the shunting vessel and assess the development of her liver.
"It confirmed the presence of a portosystemic shunt, as expected, but also revealed that Purdy's liver was not very well developed, meaning she could not have the shunt fully closed straight away.
"We placed an ameroid constrictor around the shunt, a special device that slowly closes the shunt over a period of weeks, allowing the liver to gradually grow and develop so it can cope with the blood flow.
"It worked well. Purdy made a good recovery from surgery and when she was re-examined approximately two months later, she was off her medication and all her clinical signs had resolved. She could see again, was more active and she had gained some weight.
"Follow-up blood tests showed that her liver was working normally, with normal bile acids, suggesting that the surgery had been really successful."
Purdy's case was the latest success for our hospital which handles a large number of cats and dogs with shunts every year, as a result of Mickey's international reputation as an expert on the defect.
We provides multi-disciplinary small animal care including anaesthesia and analgesia, cardiology, dermatology, diagnostic imaging, internal medicine, neurology, oncology, ophthalmology, orthopaedics and soft tissue surgery.