Soft tissue surgery in dogs and cats involves the investigation and treatment of conditions affecting the skin, head, neck, chest and abdomen (or in other words everything apart from the bones / joints and brain / spinal cord).
We see dogs and cats referred for a wide variety of conditions and work closely with our colleagues in other areas such as internal medicine, anaesthesia, oncology, emergency and critical care and dermatology to ensure that all animals receive the best treatment for the individual.
At Paragon Veterinary Referrals, we strive to deliver the highest standards of care to your pet. Our soft tissue surgery team provides a comprehensive referral service for all surgical conditions. We commonly see dogs and cats suffering from the following types of problem:
Breathing problems (e.g. in short nosed / brachycephalic dogs)
Ear problems that have failed topical management
Tumours of the skin and elsewhere
Abscesses and foreign bodies (e.g. sticks or grass seeds)
Stomach and intestinal problems (e.g. foreign body, tumours, biopsy)
Difficulty passing urine or incontinence
Wounds
Critically ill animals
Key benefits of our service:
Experienced and approachable clinicians
Multidisciplinary hospital with access to variety of other Specialists
Specialist anaesthetist on site for challenging cases
Intensive care unit with dedicated nurses and back up from Emergency and Critical Care Specialist
24-hour inpatient care from experienced and dedicated vets, nurses and ward staff
Gold standard facilities and equipment including CT scanner, MRI, two dedicated theatres, surgical staplers, key hole surgery and laser
Unrivalled expertise, particularly for management of congenital portosystemic shunts and brachycephalic obstructive airway syndrome (BOAS)
Cutting edge treatments offered including laser treatment of ectopic ureters, SUB devices for ureteric blockage, intrahepatic shunt surgery and laser treatment of BOAS
You and your pet will have a 60-minute initial consultation. During this time, we will discuss your pet's problem and give them a thorough examination. We will discuss in detail the options for investigation and treatment, and together we will form a plan. We will try to answer any questions that you may have. We will always discuss potential costs, outcomes and risks including complications.
Your animal will then be admitted for further investigations and treatment as appropriate. Investigations may be performed on the same day as the consultation and surgery is typically performed the following day. However, in some instance, particularly in emergency situations, surgery may be the same day. Depending on the treatment most animals will stay in the hospital for a number of days. Animals that have surgery are typically hospitalised for at least 24-48 hours after surgery for pain relief, observation and nursing care. We will call you daily with updates on your pet's progress throughout their stay.
BVSc (Hons) PhD CertSAS DipECVS MRCVS
Soft Tissue Surgeon and Head of Surgery
RCVS Specialist in Small Animal Surgery
EBVS® Specialist in Small Animal Surgery
Mickey is an RCVS and European specialist in soft tissue surgery and joined us in late 2018 from the University of Bristol, where he was a senior lecturer in small animal surgery. Mickey's main area of clinical and research interest is congenital portosystemic shunts and he has published widely on the subject. In addition, he has particular interests in BOAS and abdominal surgery. Mickey is passionate about providing an excellent and caring service to owners and their pets, as are the rest of the team, which is completed by soft tissue surgeon David Barker and ECVS resident Dan Kenny.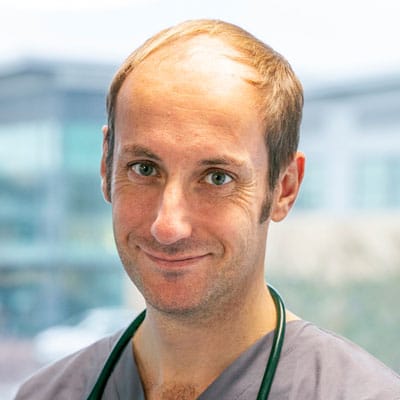 BSc BVSc CertAVP(GSAS) MRCVS
David is originally from County Durham, but moved to South Africa in 2003 to study. He graduated in 2005 with a degree in veterinary biology and again in 2009 with a degree in veterinary science. David joined us in July 2018 and is interested in all aspects of surgery, but is particularly interested in trauma management and surgical oncology. Outside work, David enjoys playing his piano and travelling, and is regularly found in a remote corner of the world. David will be sitting his ECVS board specialist exam, which will licence him to be registered as an ECVS and RCVS specialist in surgery. The exam is in the first week of July and spans over three days