Paragon Save Vinny's Life After Severe Skull and Face Injuries
Vinny was seen at Paragon a couple of months ago after being involved in an RTA and suffering severe injuries to his skull and face which meant a multi-disciplinary approach was vital to save his life.
On presentation, Vinny initially saw our Orthopaedic team where there was a suspicion of multiple skull & jaw fractures.  We performed a diagnostic CT to idneify which parts of the skull and jaw were affected prior to organising intricate surgery which was performed by our orthopaedic surgeon Nick Blackburn.  
The CT showed there were multiple factors which included a mandibular symphysis fracture, fractures running the length of the maxilla with marked dorsal and rostral displacement, comminuted fractures at the base of the frontal sinus and avulsion of the right temporomandibular joint, resulting in a fracture through the calvarium.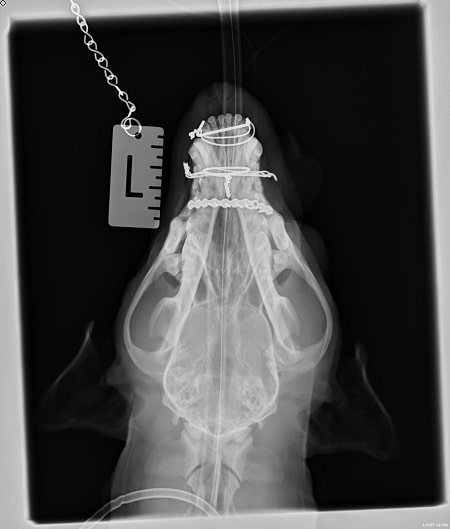 Surgery was performed to correct the most significant fractures. The mandibular symphysis was repaired using a 1.2m cerclage wire and the rostral section of the maxilla was stabilised with 2 pins and tension band wires. The dorsal aspect of the skull was stabilised with a 1.5mm locking plate to ensure good dental occlusion.
Our head of Ophthalmology, James Rushton, supported this case as there was severe damage to his right eye. Unfortunately, the injuries to the eye meant that vision wasn't restorable and so Vinny underwent enucleation of the eye.
This hasn't stopped Vinny from smiling! He is pictured here enjoying the sunshine with our nursing team, back to his happy, lively self after a post-surgery examination! We are so pleased with Vinny's progress and wish him many happy days ahead!'